By Kiera Thornton (Vice-President and Public Relations Officer, Out in UL)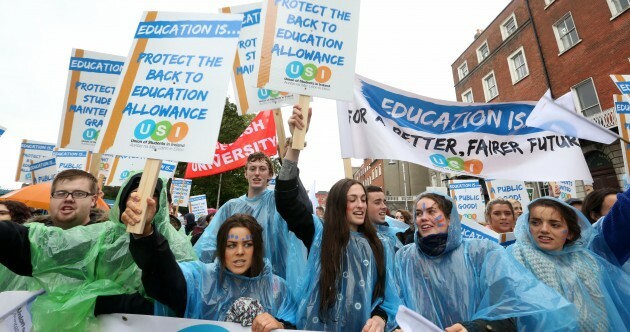 Today, Wednesday 19th October, thousands of people will take to the streets of Dublin to protest against further increases in student fees in Ireland. With the Irish government suggesting that they will implement a student loan system and increase student contributions to €5,000, the Union of Students in Ireland (USI) has organised the "Education Is" campaign to fight back. Many other groups are taking part, including UL Students' Union and Transgender Equality Network Ireland, to name but a few.
Such an increase in student contributions would have a major impact on access to third-level education in Ireland. Students would effectively be saddled with a debt of at least €20,000 for an undergraduate degree, a price that no individual should be expected to pay for the human right of education. The government should focus on making third-level education more accessible to students from all backgrounds and the system they are proposing is going to make education access even more limited. It will ultimately lead to thousands of talented young people in Ireland being priced out of education, particularly those from disadvantaged backgrounds or communities.
Young LGBTQ+ people are particularly vulnerable to being excluded from education. Earlier this year, the LGBTIreland report found that queer students had very negative experiences in Irish secondary schools, with 1 in 4 missing school to avoid bullying and harassment and approximately 1 in 20 leaving school without graduating. Queerphobia leads to many LGBTQ+ people facing an uphill battle to complete education, and creating an extra burden for us to access higher education worsens this. The same report found that Irish LGBTQ+ people had significantly elevated rates of mental illness compared to the general population, which is another barrier for queer people in education.
Most strikingly, it was reported that many LGBTQ+ people in Ireland still fear coming out to their families. As an increase in student fees would undoubtedly lead to people in Ireland relying on their families even more for financial support, the effects for a community whose members experience relatively high levels of family estrangement could be catastrophic. Student Universal Support Ireland (SUSI) provides most people under the age of 23 to provide details of their parents' income(s) upon applying for a grant. If a student is estranged from their family, they are required to submit documentation "proving" their estrangement. I know from personal experience that this process is incredibly difficult and it is inarguably a highly problematic prerequisite for receiving financial aid in paying student fees, and one that affects some of the most vulnerable students applying to higher education. The government will only continue to fail its most disadvantaged citizens by implementing a student loan system, instead of seeking a solution that provides free third-level education for all students in Ireland.
All LGBTQ+ people in Ireland must stand in solidarity with those marching on the capital today. The proposed fee increase would lead to many in our community being prevented from accessing education and this can be nothing but detrimental for the inclusion of queer people. Education is a right rather than a privilege, and that right must not be shunned by our government.